WHAT IS MONKEY LOOB???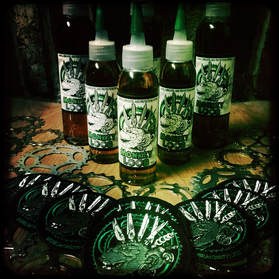 Monkey Loob is a WAX TYPE DRY LUBE that is solvent based with a little rust preventative added which helps to displace water from anything you put Monkey Loob on. It dries clean and leaves behind a non visible waxy residue that helps to lubricate and prevent against rust and oxidation. BIKERS WILL LOVE MONKEY LOOB Since the lube DRIES CLEAN it will not pick up any excess dirt OR GRIME ON YOUR CHAIN.

With Roller Derby becoming one of the fastest growing sports in the Nation, it's no wonder we wanted to share this wonderful product with skaters. There is no longer a guessing game as to which cleaner you should use when cleaning your skate bearings. And, no more questions about proper lubrication after cleaning, or wondering if you have any protection at all. Monkey Loob takes all of the guess work out of the equation for you and guarantees great protection and lubrication for your bearings, leaving them running quicker and smoother than ever while also extending the life
of the bearings, saving you money! Watch our YouTube video demonstrating our bearing cleaning system, or follow the instructions below.

The best thing about Monkey Loob is that it is not only great for skate bearings, but it is also great for lubricating and cleaning your bicycle chain, hinges, overhead doors, garden tools, tools, gears, cars, guns, or really anything that needs a little bit more cleaning power and a little protection against oxidation and rust. With the formula being solvent based, the Monkey Loob is very thin and will disperse into even the smallest of areas to give you long lasting protection!

---
WATCH OUR YOUTUBE INSTRUCTIONAL VIDEO BELOW DEMONSTRATING HOW TO USE OUR BEARING CLEANING SYSTEM!!

Using our state of the art system and Monkey Loob, you will find that cleaning your bearings will become easy and hassle free. Just follow the simple instructions below to help keep your bearings moving more efficiently saving you money in the long run. You will have no need to purchase more bearings for your skates if you keep them clean and lubricated. Your bearings will roll smoother and spin faster than ever before!


FREQUENTLY ASKED QUESTIONS:**When is the liquid not good to use anymore??
NEVER...The Monkey Loob will be good to use until it is gone. You will lose some to your rag from pulling out the bearings, and a very little to evaporation. When the dirt gets too thick on the bottom of your bottle, you can slowly pour it into your empty bottle until the dirt gets close to the top, then filter the rest through a cheese cloth or a coffee filter.
**So, What if you do not have a Cleaning System?? Can you still use Monkey Loob??
Yes. You can put the loob in a small open top bowl if you'd like and just soak the bearings in the liquid. Removing them periodically and spinning them with your fingers and returning them to soak. This method just takes a little longer because you are not able to spin out the dirt quite as quickly.
You can also use Monkey Loob as a quick fix, or a speed cream, to any seized bearing. Just simply drop a few drops into the bearing, and spin them.
**How Often should I clean my bearings?


This is really personal preference. I usually would clean my bearings thoroughly at least once a month. (Usually before a Bout) This gave me the opportunity to be sure nothing was lodged between my axles and my wheels, and I would be able to look over my skates for any loose or missing parts, etc.
If you skate outside often in a dirty place, you may want to think about doing it a few times a week. I really depends on how often you skate, and where.
Have any more questions? CONTACT US